Your home is where you spend a great majority of your time—shouldn't it live up to your every expectation? When it comes to home remodeling in Tyler, Smith County, Noonday, or Douglas, TX, Canfield Construction Management helps you create the home of your dreams, so you're always comfortable in the space where you live.
Our home remodeling capabilities span the gamut, touching every aspect of your living space. From the basement to the kitchen, living room to each and every bedroom, our home remodeling contractors are prepared to leverage our skills to truly transform your home. We have become a trusted and recommended renovation contractor in our community, offering a wide range of services that include:
Entire home remodeling
Room remodels
Room additions
Kitchen remodeling
Bathroom remodeling
Roof installation and repairs
No matter what the scope of the project or how big the undertaking, know that we're beside you every step of the way. We'll help you put your vision for the perfect home down on paper and can tailor the design to meet your highest expectations. Then, we put in the work to bring it to life, assuring you're left with a finished product that's everything you dreamed it would be.
Home additions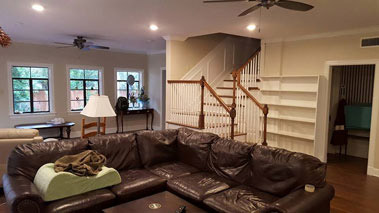 Among our home remodeling capabilities is the ability to handle home additions in Tyler, TX. From planning and permitting to building and design integration, we're equipped with the skills and expertise to expand your home to accommodate your growing needs. From a new bedroom to a home office, a kitchen extension and even a sunroom, our abilities know no bounds.
For more information about how our expert team of home remodeling contractors can help you remodel and renovate your home, contact us today by calling 903-283-0060. We're ready to meet with you to discuss your home improvement, garage, or deck project, and can provide a free estimate when the scope of the project is determined.