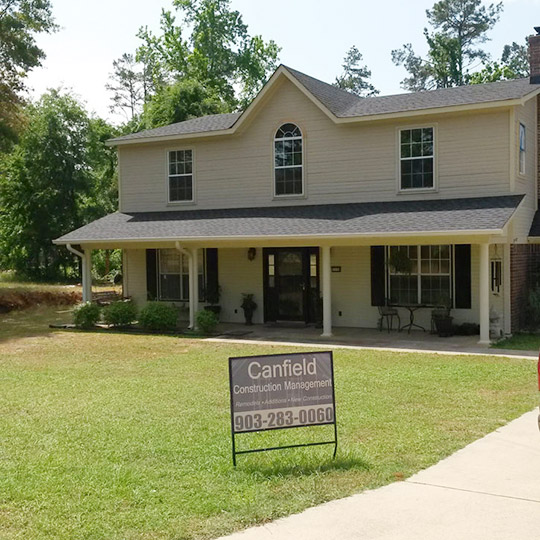 It's every homeowner's dream to build a unique home from the foundation up, in the style and vision that's perfect for them. Canfield Construction Management is helping area homeowners realize that dream. We're your expert custom home builders in Tyler, Smith County, Noonday, and Douglas, TX! We have decades of experience when it comes to all facets of home construction and we're ready to apply them to your home building project.
Call For a FREE Estimate! (903) 283-0060
Our construction abilities are completely comprehensive, meaning we're able to coordinate the building of your home from the ground up. From the framing to the finishing and every step in between, we're equipped with the skills, expertise and quality products to bring your vision of a perfect home to life.
From site planning to the design, construction and finishing touches, when it comes to creating beautiful custom homes, there's no one better than our custom home builders. Some of our new home construction capabilities include:
Concrete work
Drywall and insulation
Exterior siding
Framing
Foundations and footings
Interior work
Roofing and chimneys
Best of all, when it comes to putting your ideas down on paper, our home builders in Tyler, TX will walk you through the process. We place special importance on planning, so that when the build phase comes around, everything is perfectly proportioned and ready to move forward. We'll help you iron out your ideas and make recommendations, to give you the confidence you want in your new home.
No matter how big your home will be, what style it's built-in or what features it'll include, Canfield Construction Management is the roof contractor to trust. We're proud to have helped numerous area residents build their dream homes, and we're looking forward to helping you do the same. For more information or to start consulting with us today, please contact us at 903-283-0060. We're pleased to offer free quotes to clients upon consultation for custom homes, home remodeling, and garage construction projects.
Call For a FREE Estimate! (903) 283-0060