November 3, 2023 9:54 pm
Leave your thoughts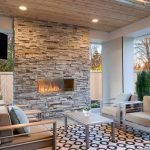 Building a custom home is an exciting endeavor that allows homeowners to design a space perfectly tailored to their preferences and lifestyle. When it comes to creating a one-of-a-kind living space, incorporating unique architectural features can make a significant impact. These features not only enhance the beauty and functionality of the home but also create a sense of personality and individuality. In this blog post, we will explore various ideas and subheaders on how to incorporate unique architectural features in a custom home.
1. Embracing Natural Light through Skylights and Clerestory Windows
Natural light has a transformative effect on the ambiance of any space. Incorporating skylights and clerestory windows is an excellent way to flood the interior with abundant sunlight while adding a striking architectural element. Skylights can be strategically placed to illuminate rooms with less access to windows, such as hallways or bathrooms, while clerestory windows serve both as sources of light and intriguing design aspects.
2. Introducing Interesting Rooflines and Profiles
A custom home provides an opportunity to experiment with rooflines and profiles. Instead of traditional, straightforward roofs, consider incorporating unique shapes that add character to your home's exterior. Gables, gambrels, and mansard roofs are just a few examples of distinctive roof designs that can make a strong visual statement. By playing with various angles and pitches, you can create an extraordinary architectural feature that sets your home apart from the rest.
3. Showcasing Architectural Details with Accent Walls
An accent wall can be a focal point that catches the eye and showcases the architectural details of your custom home. Incorporate elements such as exposed brick, reclaimed wood, or textured wallcoverings to add depth and visual interest. Accent walls not only enhance the overall aesthetics of a room but also provide an opportunity to personalize your space with unique finishes that reflect your style.
4. Incorporating Unique Entryways and Grand Foyers
The entryway is the first impression your home makes on guests. By incorporating unique architectural features into your entryway, you can create a lasting impact. Consider designing a grand foyer with a dramatic staircase, high ceilings, or a visually stunning chandelier. These elements not only add grandeur to your home but also set the stage for the rest of the architectural marvels within.
5. Integrating Indoor-Outdoor Living Spaces
Blurring the boundaries between indoor and outdoor spaces is an architectural trend that continues to gain popularity. Incorporating features such as large sliding glass doors, covered patios, or even an interior courtyard can seamlessly connect your custom home with nature. By integrating the beauty of the outdoors into your living spaces, you create a harmonious balance and a sense of tranquility.
6. Adding Statement Ceilings
While often overlooked, ceilings represent an often untapped canvas for architectural creativity. By incorporating unique ceiling designs, you can add a touch of grandeur and architectural interest to any room. Ideas include coffered ceilings, tray ceilings, or vaulted ceilings that add visual drama and depth to the space.
7. Designing Custom Built-ins and Nooks
Incorporating custom built-ins and nooks throughout your custom home offers both functional and aesthetic benefits. Built-in bookshelves or window seats can add character and create cozy corners, while built-in storage solutions optimize space. These architectural features not only add convenience but also contribute to the unique charm and personality of your home.
Summary
Incorporating unique architectural features in a custom home is an excellent way to create a living space that stands out from the ordinary. From introducing abundant natural light to embracing interesting rooflines, accent walls, and grand entryways, the opportunities for architectural creativity are endless. By carefully planning and implementing these features, your custom home will become a stunning showcase of your individuality and taste. Remember, building a custom home is a journey, and architectural features are the milestones that pave the way to your dream living space.
Need a Construction Company in Tyler, TX?
Canfield Construction Management is an independently owned business that has been servicing customers in Tyler since 2011. We have 24 years of experience in the construction, remodeling, and renovation industry! We are very thorough and accurate with our work, and we pride ourselves on the services that we provide. Canfield Construction Management is an affiliated member of the Better Business Bureau. We provide remodeling and renovation services in residential areas. We also have experience in building decks, garages, and sunrooms. The renovation of an entire home is one of our specialties! Please contact us if you have any questions, concerns, or would like to schedule an appointment for a free estimate!
Categorised in: Custom Home
This post was written by admin